Click images to enlarge...
Actor Jonathan Rhys Meyers has been signed to play King Features "Mandrake The Magician", based on creator Lee Falk's 1930's comic strip character.

Premise of the film will focus on magician 'Jackson Mandrake', approached by the CIA to assist them in a covert operation. Mandrake reluctantly agrees but soon finds himself caught up in an intricate web of deceit, forced to fight for his own survival.

Chuck "The Mask" Russell will direct.

Omega Entertainment, a Swiss-based independent led by founder Markus Barmettler will finance the film. The company plans to produce/release up to ten films a year in the $10-$60 million range, with former Lakeshore topper Peter Rogers as president.
Created in 1934 by Lee Falk, 'Mandrake' was an illusionist whose work was based on hypnotic technique. When Mandrake "...gestured hypnotically..." he could induce anyone to hallucinate.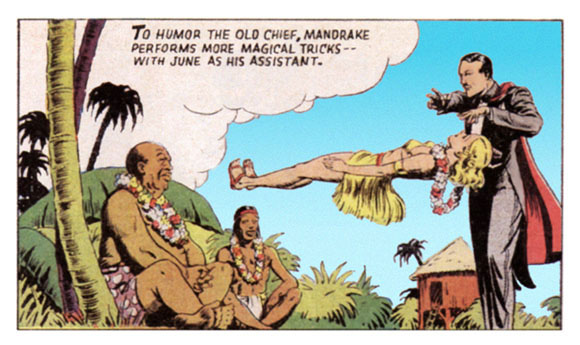 In 1939, Columbia produced a 12-part "Mandrake the Magician" movie serial, based on the King Features strip, starring actor Warren Hull as Mandrake and Al Kikume as sidekick 'Lothar'.


NBC produced a TV pilot in 1954, starring stage magician Coe Norton as Mandrake and Woody "Spartacus" Strode as Lothar.

Actor Anthony Herrera starred in the 1979 TV movie "Mandrake" with Ji-Tu Cumbuka as Lothar.

In the animated TV series "Defenders of the Earth", Mandrake teamed up with fellow King Features characters 'Flash Gordon' and 'The Phantom'.