A rare, intact version of director Fritz Lang's 1927 silent feature "Metropolis", discovered in Argentina, will be screened at Berlin's Brandenburg Gate, February 12 as part of the 60th Berlin Film Festival.
"Metropolis" will also play at simultaneous showings in Berlin and Frankfurt, accompanied by a live orchestration of composer Gottfried Huppertz's original score.
Written by Lang and his wife Thea von Harbou, the 'expressionist' film, set in a city of the future, pictures the working class slaving at corporate machinery while the rich fritter time with idle and decadent pursuits. Meanwhile, the son of the city's boss falls in love with a beautiful 'proletarian prophet, while a mad scientist named 'Rotwang' creates an erotic "Maschinenmensch' robot to infiltrate the masses.
The film has since inspired legions of science fiction directors including Steven Spielberg, George Lucas, Ridley Scott and James Cameron.
Sections of the original film, were cut by the studio to make the movie more commercial upon its initial release. In 2002 a remastered version was released with title cards inserted in certain sections, explaining to viewers the missing action.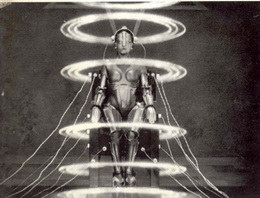 But in 2008, a film historian found a complete, non-cut version of "Metropolis" in Buenos Aires, Argentina, that was originally shipped there by a film distributor following the film's 1927 world premiere.
Click the images to enlarge and Sneak Peek "Metropolis"....