Click image to enlarge...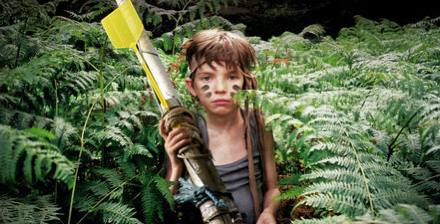 Paramount Vantage and Hammer & Tongs are teaming up for a short film contest.
To enter, you will need to submit an original short film about anything.
Submissions can be up to 5 minutes max.
The Grand Prize winner will have their short film placed in the Special Features section of the Son of Rambow DVD.

Three runner-ups will receive framed movie posters signed by the director and producer.
The deadline for submissions is May 12, 2008. Filmmakers must be 13 years of age or older to enter.
Films must be submitted in one of the following formats: AVI, QA, MOV, MPG, MPG4, WMV

Visit http://sonoframbow.filmmakingfrenzy.com for more information.

SON OF RAMBOW (Paramount Vantage) opens in Toronto May 9 and Vancouver May 16.
A nostalgic trip back to the 1980s, 'Son of Rambow' is an inventive valentine to an era where, for the first time in history, young minds had access to technology that allowed them to create their own stories while paying homage to their larger-than-life heroes from the movies that inspired them.

'Will', who isn't allowed to watch TV or go to the movies, expresses himself through his drawings and illustrations until he finds himself caught up in the extraordinary world of Lee Carter, the school terror and crafter of bizarre home movies. Carter exposes Will to a pirated copy of the first Rambo film, First Blood, which blows his mind wide open. Against his family's orders, his imaginative little brain begins to flower in the world of filmmaking. Will and Lee become popular at school through their films, but when a French exchange student, Didier Revol, arrives on the scene, their unique friendship and precious film are pushed to the breaking point.
GARTH JENNINGS (Writer/Director) & NICK GOLDSMITH (Producer) are collectively known in their creative partnership as Hammer & Tongs. Jennings recently made his feature directorial debut with THE HITCHHIKER'S GUIDE TO THE GALAXY, based on Doug las Adam's screenplay drawn from his classic sci-fi comedy novel, which Goldsmith produced.
Since 1999, Jennings and Goldsmith have partnered on innovative music video productions and television commercials. Thirteen years and many video shoots later, Hammer & Tongs is still going strong. They are best known for music videos that include "Coffee & TV" for Blur, "Right Here, Right Now" for Fatboy Slim, "Pumping on Your Stereo" for Supergrass and "Imitation of Life" for REM. Along they way, they've put Jarvis Cocker on a stairlift, Joan Collins in a bathtub and picked up countless awards. More of their creativity can be seen at their website, www.tongsville.com.