Click images to enlarge...
The new "Scene It? Seinfeld" DVD game will launch September 2008 and includes the most memorable moments from the long-running "Seinfeld" series, aka the TV comedy 'show about nothing'.

The game will challenges players to answer trivia questions about the series as they race around the board to win.

Mattel, Inc. has teamed up with Screenlife, LLC, and Warner Bros. Consumer Products to create a fresh gaming experience that will determine the ultimate Seinfeld fan.


The "Scene It? Seinfeld" DVD game includes hundreds of clips featuring memorable scenes and a myriad of images, stars and trivia challenges from all nine seasons of the hit sitcom.

Card-based questions come in three categories, named after the style of different Seinfeld episodes.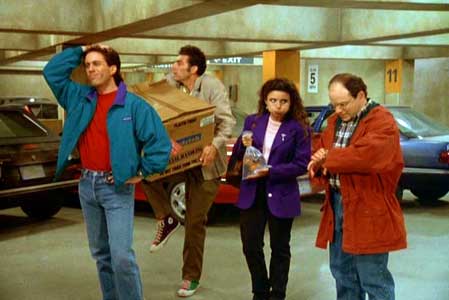 "Warner Bros. Consumer Products has a long-standing history of partnering with Mattel for some of our most popular properties, and the "Scene It? Seinfeld" game is no exception," said Karen McTier, Executive Vice President of Domestic Licensing and Worldwide Marketing for Warner Bros. Consumer Products.

"We're excited that, for the first time, fans will have the opportunity to re-live their favorite moments from the show through the "Scene It?" gaming experience."

"Scene It? Seinfeld" is the latest product in a line of popular entertainment-themed DVD-based products, including "Scene It? Movie" 2nd Edition and "Scene It? Harry Potter" 2nd Edition.

The proprietary 'Optreve' technology, exclusive to "Scene It?" games, randomizes Seinfeld clips for a different version of the game every time. Additionally, the 'Flextime' game board allows fans to play a quick game on the fly or opt to unfold the game board for a more complete experience.

"Seinfeld" is the Emmy Award-winning series noted as one of television's most innovative sitcoms, with TV Guide ranking it No.1 on its 2002 list of '50 Greatest Shows of All Time'.

Currently in syndication, "Seinfeld" airs on leading TV stations in more than 200 US markets ...