The Whistler Film Festival (WFF) has announced that a Special Presentation of the feature "Civic Duty", directed by Jeff Renfroe, starring Peter Krause, Kari Matchett, Richard Schiff and Khaled Abol Naga, has been added to the official line-up and will be screened during the sixth annual festival
November 30 to December 3.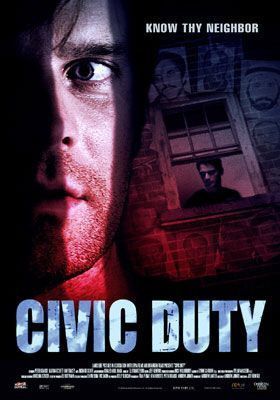 This addition brings the total number of films to be screened at the fest to 94 and the number of Canadian premieres to six.

Lead actors Peter "The Truman Show" Krause and Kari "Invasion" Matchett are expected to be in attendance.

Premise of "Civic Duty" focuses on unemployed accountant 'Terry Allen' (Krause), whose paranoid obsession with cable news' coverage of the "War on Terrorism" becomes magnified when a 'student' moves in next door.

When Allen's wife 'Marla' (Matchett) and a cynical FBI agent (Richard Schiff) disregard 'theories' about the neighbour, Allen decides to take matters into his own hands.

"Civic Duty" was produced by Vancouver-based Tina Pehme and Kim Roberts of Sepia Films, in association with New York's Landslide Pictures.

The film had its world premiere at the 2006 Tribeca Film Festival and was voted number one pick of Tribeca by the New York Post.

"Civic Duty" opens in theatres across North America April 20, through Christal Films Distribution in Canada and Freestyle Releasing in the US.

The film will have its Canadian Premiere, Saturday December 2 at Village 8 Cinemas.

For further info call the Bell Info Line at 1-877-913-FILM (3456).

The Whistler Film Festival Society (WFFS), a non-profit education and cultural organization, operates the Whistler Film Festival and its programs.

WFFS is dedicated to supporting artistic innovation, profiling new technology and providing an educational/entertaining environment for film enthusiasts/industry professionals at its annual film festival, monthly screening series and other professional development programs.

WFFS and the Whistler Film Festival are committed to enriching the cultural experience of local, national and international audiences by celebrating, promoting and developing Canadian filmmakers and world cinema.

The festival is presented by American Express and is sponsored by Bell Canada, Directors Guild of Canada - B.C. District Council, CBC Newsworld, Global Television, Harmony Airways and Movie Gallery, with support from Telefilm Canada.

Click

here

for more "Whistler Film Festival"