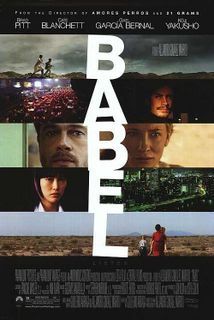 A special screening of Babel will be held Wednesday, November 1, 7:30 PM at the Paramount Vancouver, 900 Burrad Street, courtesy The Vancouver Sun, Jack FM, News 1130, CLEAR FM and KVOS Television.

Babel stars Brad "Fight Club" Pitt and Cate "Elizabeth" Blanchett in a film of four interweaving stories, set in Morocco, Tunisia, Mexico and Japan.

Starting in the remote sands of the Moroccan desert, a rifle shot detonates a chain of events linking an American tourist couple's struggle to survive, two boys involved in an accidental crime, a nanny illegally crossing into Mexico with two children and a Japanese teen rebel whose father is sought by the Tokyo Police.

Separated by cultures and distances, each of these four groups of people hurtle towards a shared destiny of isolation, in a film told in Arabic, English, Spanish, Japanese and sign language.

"The most difficult challenge in this film ... was to get rid of text and find how to translate these words -- and in this case three continents, five languages and four stories, all these diverse elements -- into one, single visual language," said Mexican director Alejandro Gonzalez Inarritu, who won best director's trophy at the Cannes film festival in May.
Rated 'R' for violence, graphic nudity, sexual content, language and drug use, distributors of Babel
are Paramount Vantage for Zeta Films, Central Films and Anonymous Content.

Click

here

to sneak peek the trailer