British Columbia-based film producer/director Uwe Boll, noted for the video game-to-movie adaptations "In the Name of the King: A Dungeon Siege Tale", "BloodRayne", "Alone in the Dark" and "House of the Dead", challenged four internet film critics, critical of Boll's movies, to a 3-round boxing bout at Vancouver's Edgewater Stage, Plaza of Nations, September 23, 2006.
Promoted by GoldenPalace , the "Raging Boll" outdoor events were also taped for an upcoming doc.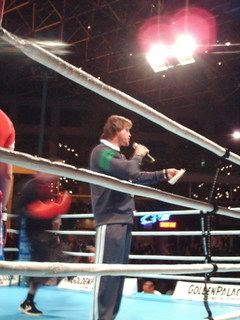 The first match began with semi-pro boxer, aka 'Deutschland Destroyer' Boll, playing straight man to challenger Richard "Lowtax" Kyanka, webmaster of somethingawful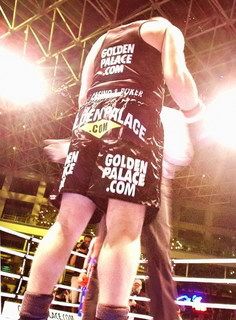 The costumed Kyanka tried to work the crowd into a WWF frenzy but Boll was in no mood for clowning around and after planting a few good shots, swung hard with a blinding right, missing Kyanaka's face. Lowtax wisely feigned taking it on the chin, and stayed down for the count.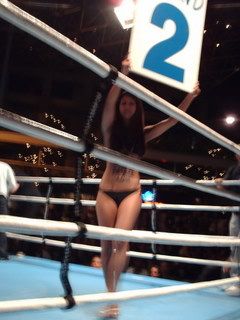 Second challenger, Jeff Sneider of geek site aintitcool came out punching like a wannabe' contender, but after brushing off a few deft jabs, Boll lost HIS cool and mercilessly pounded Sneider into submission. Third challenger Chris Alexander of Toronto's Rue Morgue, tried to give Boll as good as he got, with both fighters trading off several hunt 'n peck punches. Unfortunately Alexander was unable to stay focused on the auteur, due to Boll's fists hammering away at his face, and he dropped to the mat, fading out of the picture. Fourth and last challenger, teenage boxer/webhead Nelson Chance Minter, was hoping that Boll's fatigue would kick in, but the sweating, snorting 'Destroyer' uppercut into Minter's jelly-belly until the ref finally gonged the bell. And that was that.
"I was not expecting they would step up to the plate," Boll said about the now bruised challengers who had criticized the director's body of feature film work, prompting the pay-per-view fight over wavelit.com. "But there is a lesson to be learned here," he said victoriously addressing the crowd from the center of the ring. "Critics are not writers."
On behalf of those film critics who became screenwriters, including Jean-Luc Godard ("Weekend"), Francois Truffaut ("Day For Night"), Eric Rohmer ("My Night At Maude's"), James Agee ("African Queen"), Peter Bogdanovich ("The Last Picture Show"), Pauline Kael ("Sunday, Bloody Sunday"), Paul D. Zimmerman ("The King Of Comedy"), Jay Cocks ("Gangs of New York"), Stephen Schiff ("True Crime") and Paul Attanasio ("Donni Brasco"), the world awaits Boll's next video game adaptations, "Postal", currently shooting in Surrey, BC, followed by "Far Cry"...
Click here to sneak peek the fight videos!