Soundtrack composer Davie Allan, creator of a signature 'fuzz guitar' sound with his band 'The Arrows' on more than 2 dozen 1960's motorcycle movies, including Roger Corman's "The Wild Angels", starring Peter Fonda and Nancy Sinatra, will guest at the New Jersey "Chiller Theatre" Toy, Model and Film Expo, October 27 to 29, Crowne Plaza Hotel, Secaucus, New Jersey.
Other musical guests will include KISS drummer Peter "The Cat" Criss, original "Beatles" drummer Pete Best and 'The Dead Elvi'.
The Expo also celebrates this year with "The Warriors" movie reunion.

Guests attending include "The Warriors" original actors Michael Beck, Deborah Van Valkenburg, David Harris, Dorsey Wright, Terry Michos, Thomas Waites, Roger Hill, Brian Tyler, Jerry Hewitt and Irwin Keyes.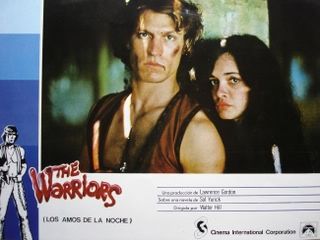 Famous Monsters of Filmland's Forrest J. Ackerman is also confirmed to attend, as well as numerous 'genre' movie/TV personalities including Marilyn "Rabid" Chambers, Robert "I, Spy" Culp, Peter "Mission: Impossible" Lupus, Ed "Texas Chainsaw" Neal and TV horror host 'Zacherley'.
Click

here

to sneak peek more "Chiller Theatre"